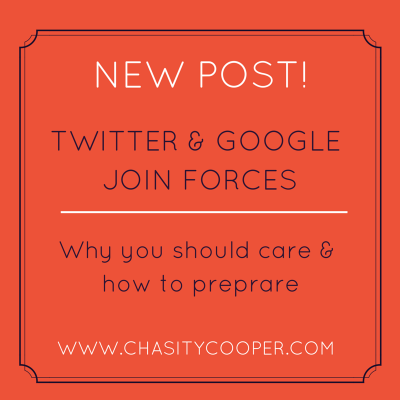 Happy #TechTuesday (and #Snowday) friends! Last week, I celebrated my 6th Twitterversary, and it really got me to thinking about how much Twitter has evolved since its inception. From the explosion of #hashtags, to now the ability to group chat with your favorite Twitter friends, my favorite social network is all grown up!
And of course with growth, comes change. I remember the day that my news writing professor made it mandatory for us to create our own Twitter accounts. In the spring of 2009, I had NO IDEA what Twitter was, and really didn't understand its purpose. But soon enough, I found that it was probably the best way to connect with new (and old) friends instantaneously, and receive the most timely of news. Additionally, Twitter gives employers of the past, present and future a glimpse into your thoughts, and what type of things you like to share on the daily.
Recently, Twitter announced it has inked a deal with Google, and within the next few month users' tweets will show up in Google search. According to an article from TIME Magazine, this new partnership will give Google access to the live tweets of almost 300 million followers. There are many reasons for this partnership, but Twitter's CEO Dick Costolo has made this deal in order to increase the number of users, as it looks to compete with Facebook and Instagram.
Because we all know that search engines can be our best and worst of friends, it's best to be prepare for how this new partnership can impact your tweeting. Here are three tips on how to you too can tweet a little bit smarter:
1. Think BEFORE you tweet! This goes with out saying, but it is IMPERATIVE that you are thoughtful when it comes to those 140 characters you chose to send. Not all of us (yet) are blessed enough to be millionaires and spend our afternoons throwing ridiculous amounts of shade without worrying about the repercussions of our actions. To avoid any trouble, just worry about yourself, and if you don't start none, there won't be none.
2. Take advantage of Twitter Analytics. Did you know that Twitter gives you the opportunity to see exactly how your account is performing on a daily basis? If you click on the icon of your Twitter avatar in the top right and scroll down to 'Analytics', you'll be directed to another website that will show you all of your Twitter data going back to 2012. If you're a social media data nerd like me, you can see how your followers are engaging with your content, the most popular topics that you tweet about, and how much your following has increased. Such a cool tool, and it's free too!
3. Request your archive. Have you ever pondered on what tweets you shared with you first started your account? Well, now you don't have to wonder! Another cool (and free) tool, Twitter gives you the opportunity to see all of your tweets dating back to the beginning! While you most likely won't be able to change what you've already shared, it does give you the chance to look at how much your personal brand as evolved since your account's inception. Just click on your avatar icon in the top right hand corner, and scroll down to 'Settings'. Once you reach your Settings page, scroll down to the bottom and click the "Request Archive" radio button. Within a few minutes, a link to a zip file of your archived tweets will appear in your inbox. It's always funny to me to walk back down memory lane with my tweets.
And there you have it! It's not clear if this will also have an impact on those Twitter accounts that are locked, but I'm sure Google will figure out how to get around that in due time.
As always let me know what you think in the comments below, or Tweet me!
Happy Tweeting!